Wooden Dual

18650 Box Mod
Before you consider using a mechanical mod or building your own mod, you should be familiar with battery safety. Furthermore you should have some understanding of Ohm's law to be safe. You can find a guide on the imporant basics by clicking on the following button.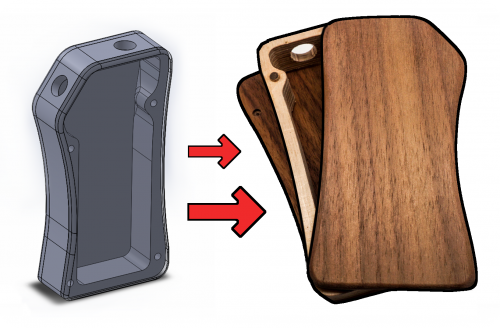 If you do not have the following tools, but still want to build your own mod, there are different options. You could either visit a makerspace if you have one nearby or you can get those tools from amazon. I am going to link the needed tools during the build plan.

What you are going to need:
That's pretty much it. Of course if you have access to more woodworking tools like a disc & belt sander, you can use them to make it easier, but they are not required to do the job.
What's next:
I provide you with the .dxf file. You can simply print them out and glue them on a piece of wood to trace the line and cut it out. If you have access to a CNC mill, you can obviously also use these files to cut out the frame on the mill.
Often you find yourself in a situation where you think that you do not have the right tools to do something, but with some creativity you can get the job done with much less tools then you might expect, it might just require some more work
Note: Some of those links are referral links, if you buy something from those links you do not have any extra costs but at the same time you support me, so I can create more build plans like this.
For now the build plans are mostly plain text, but I will add some pictures in the future, to make it easier to follow the steps.Get all the files you need here for fr
Build Plan: Dual 18650 Wooden Box Mod

488.68 KB
Private use only
These build plans are for private use only. You are allowed to build your own mod, but you are not allowed to build them for commercial use and sell them. Click "I Agree" to access the download button.